HAPPY NEW YEAR! Please don't let this mood and moment foolishly disappear without taking a moment to think about your home, please. The idea is we start the new year with a clean slate so we make resolutions and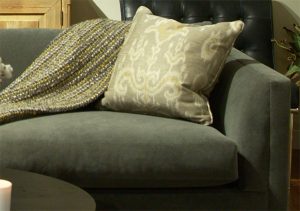 goals as to how we will improve ourselves over the coming year. Please take a good look around your home or office and see if any improvements can be made there as well. Your environment is so important to improving your daily life in the New Year. More and more the stress of our careers and everyday life issues are draining us of energy and comfort. Your home is a sanctuary and it is here that you should find rest, relaxation, and solitude to recharge your batteries for tomorrow's demands.
OK, so let's take a look at your home. If the last time you painted the living room walls was in the early 2000s its time. Update with some up to date colors and freshen up the woodwork with a good coat of paint. If you are sitting on a sofa that still has magic marker stains from your toddler, and that child is now a junior in college, it is past time for some new upholstery in your home. A good quality sofa that fits and works for you can be an investment, but boy does it pay dividends over the years. Perhaps your sofa just needs a little pick me up, well how about some new throw pillows and a soft sofa throw to add a new punch to your room.
What is your carpet, rugs or hardwood floors saying to you? Maybe its time for an update with them as well. A new area rug in any room of the house can be a quick clean pick me up to your current décor. Or perhaps the purchase of a new rug can be the inspiration for a new design direction for your home.
Let's take a look at the bedroom and bath of your home. The bathroom is where most of us start and finish our days. Well if your bathroom seems worn and dingy I don't think this is a great way to start and end your day. I'm not saying your bath area needs a total construction project, but perhaps a new area rug on the floor or just some new towels and decorating accessories can provide a POP! Of energy to your morning.
How's the bedroom? Is it calm and restful? The wood bedroom furniture looks good, but would you consider replacing your wood bed with an upholstered headboard? This replacement can add a little bit of softness to the room by removing a wooden element from the room. If not an upholstered headboard, how about a comfy upholstered chair, or a luxurious chaise lounge, great for reading.
Bedrooms and dining rooms tend to be filled with hard plain design surfaces and a little bit of upholstery to these rooms can ad softness and design through fabric patterns. Remember to turn or flip your mattress every new season and a new mattress can make a big difference. FYI the average mattress lasts only 7 years and all bed pillows should be replaced every two years. One last thought, if your bedroom is painted in bright hot colors of orange, yellow, blue, chartreuse you need to repaint. Keep it soft, choose a color that's restful and calm and new linens that are coordinated with wall colors will look great.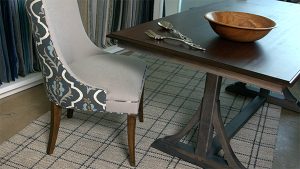 Ok, let's move onto the heart of the house the kitchen and dining room. Maybe you need a complete kitchen replacement. Oh, what a stressful adventure. But think about new countertops, backsplash or a new paint job to cabinets or walls. It could even be as easy as new appliances. Small replacements can make a big difference in your kitchen and can be far less stressful than a full replacement.
A lot of homes no longer have a separate "formal" dining room and eat-in kitchen.
With the popularity of an "open concept" home design, some folks have only one dining area. Dining room furniture takes a beating in just about every home. I believe in investing in a good table and sturdy chairs because the quality is really important here. Will the finish withstand wet glasses and hot coffee cups? Are your chairs built to withstand years of hard use? If your table is structurally feeble and you're afraid your chairs won't hold big cousin Bill, you should be looking for something new. But if all is well, think about recovering upholstery seats with a new fabric. Choose from a pattern that goes with your colors and design and these chair seats can be a very easy DIY project. The fabrics available to you are endless and you will even find stain-resistant examples.
Ok, I think you get the idea! Please don't let the moment pass, to look over your home and think about how improvements here, could improve your everyday life.
A little improvement here and there can make a big difference in your comfort for not just this new year but many years to come. I truly believe that our home is our sanctuary where we recharge and refresh, take time to make a few improvements to get the most out of your sanctuary Till next time